Friends of Joy Lane
The AGM was held 7th September 2022 and was a huge success!
A new committee was formed after a handover from the old, with such gratitude for all of their hard work in the past. We recruited lots of keen members with so many new ideas. But we still need more! We are really looking forward to working within the school community. There are lots of exciting times ahead!
Join us!
Wed 21st September 2023 6pm Upper School Hall.
At this meeting we will agree on events and dates for the year ahead, discuss how we can raise money without events, and finalise anything outstanding for the newly formed FOJL.
Children are welcome at meetings!
AGM 2022
Who are the FOJL?
FOJL is a group of parents/carers who give up a little of their free time, organising fund raising and social events to enable the school to raise additional funds to benefit our children in activities and resources that are not covered in the school budget. As parents/carers of children attending Joy Lane Primary School you are all automatically members of this association.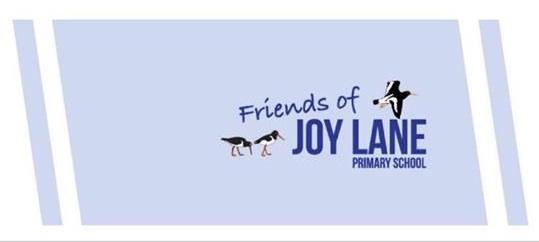 How can you get involved?
Parents have very busy lives, with different schedules and commitments and it's not always possible to attend meetings, being involved can be as big or little a commitment as you want anything from helping on a stall at the summer fair, donating prizes and selling tickets for raffles or just by attending social events that are held in school.
We try to have a meeting at least once a month normally lasting about an hour it's all very informal, just to discuss any events that are in the pipeline and come up with any new ideas to help with fundraising.
Even if you can't attend any 'Friends' meetings but have ideas that you would like to share please feel free to do so at
friends (at) joylane.kent.sch.uk
FOJL achievements!
The Friend of Joy Lane Primary School have held the following events:-
School Discos
Summer Fair
Firework Night
Christmas Fair
Christmas Shop for Children
Kids on the Catwalk
Photography Day
Pamper Evening
Coppers Appeal
These events raise money which enables us to provide the children with resources not covered by the school budget.
We thank you for your support and appreciate all the positive feedback we receive after each event.