Our Learning Environment
Supporting positive behaviour for learning and promoting good mental health and wellbeing are priorities at Joy Lane Foundation Primary School, and our learning environment plays a large part in this. Neutral colours, the natural world and real materials/artefacts feature highly in our classroom environment to ensure the children are calm, ready for learning and distractions are minimised – and their work takes centre stage in the classroom!
The Curiosity Approach
"A modern day Approach that fits perfectly in current changing technological times. Bringing curiosity, awe and wonder into early childhood & creating the 'thinkers & doers' of the future. We aim to empower and ignite passion and excitement in practitioners. We encourage adults to create beautiful, language-rich play spaces for children, using the children's interests at the core of all planning."
Stephanie Bennett, Co-founder of The Curiosity Approach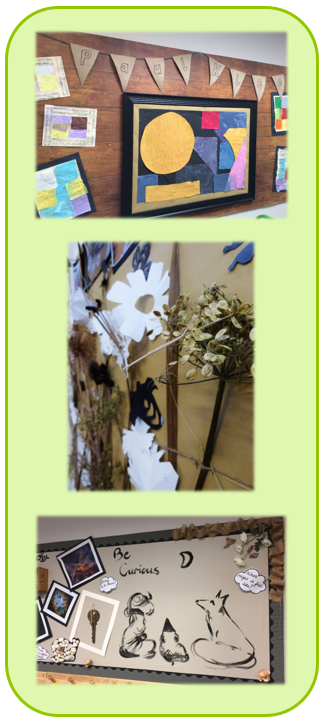 The Curiosity Approach is an approach to early childhood and is embedded in our Early Years' setting; however, we are passionate as a school that it does not stop there and our children leave us as independent, curious and creative problem solvers. Many aspects of this approach permeate through our mainstream curriculum and learning environment, all the way to Year 6.
"At the Curiosity Approach, we are advocates for calm, neutral backgrounds for any displays to let learning shine through, making it become visible! But also we do this to create a sense of calmness without over stimulating those who it is intended for – the children!
Stephanie Bennett, Co-founder of The Curiosity Approach
This fully inclusive approach creates a calming, safe and nurturing space, which supports all children across the mainstream and Oysters SRP. Taking pride in our learning environment encourages our children to value and take care of their surroundings and the work they produce, whilst promoting an eco-friendly culture of sustainability and recycling.